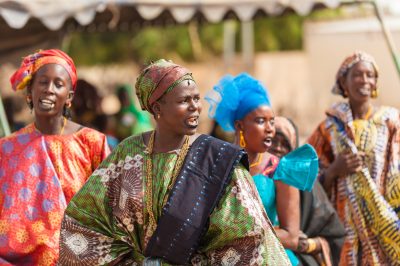 Orchid Project are excited to share the news that 117 communities will be declaring abandonment of female genital cutting (FGC) in the Kolda region of Senegal this Sunday, 14th May 2017.
And that's not all – a further 57 communities will declare abandonment the following week, on 21st May 2017, in the Matam region of Senegal. Incredibly, this means that over 170 communities will have declared abandonment this month alone.
These declarations are a culmination of five years' of Orchid Project's support of Social Mobilisation (SM) in Senegal, implemented in partnership with Tostan. During the SM programme, teams of volunteers travel through their social networks, often on foot or by horse and cart, to neighbouring communities to share why their own community stopped cutting their daughters.
At the declaration ceremony on Sunday, representatives from each of the 117 communities reached through SM will unite to share their commitment to abandoning the 2,000 year old practice. They will do so in front of their neighbours, governments and national and international communities. Included in this will be intermarrying communities that have not yet abandoned, who are invited to witness the change. They will be able to see for themselves that collective action has led to a social norm shift, encouraging new and open dialogue about how FGC is ending. 
This occasion is part of a wider movement of social change happening across West Africa. Over 8,000 communities in 6 countries (Guinea, Guinea-Bissau, Mali, Mauritania, Senegal and The Gambia) have now declared abandonment of FGC.
Change is happening.
FGC is ending.
Stay tuned for more updates direct from the field early next week!