An exciting new chapter has started for the Orchid Project with the launch of a 5-year Strategy 2023-2028, and a regional office in Kenya. 
At a gathering in Nairobi, Kenya, we came together with our partners, grassroots organisations, national NGOs, government representatives, Kenyan corporations, consultates, development agencies, Orchid Project staff and Board members, activists and survivors; all dedicated to a common goal of ending female genital mutilation/cutting (FGM/C) in our lifetime. 
FGM/C is a harmful practice and form of gender-based violence that involves the partial or total removal of a girl's external genitals for non-medical reasons. It is widely recognised as a violation of girls' and women's human rights and can cause long-lasting physical and psychological harm, including chronic pain, infections, infertility, and even death in some cases. 
The launch of our new strategy and regional office marks a significant moment in our journey to end this harmful practice which continues to impact girls…around the world.

Asenath Mwithigah, CEO
Orchid Project, which was founded in 2011, has worked closely with grassroots partners in Kenya and across Africa since its inception. In Kenya, prevalence of FGM/C has declined over the last 2 decades, where now 15% of women and girls aged 15-49 years  nationally have undergone the practice, according to the Demographic Health Survey 2022.
Around the world, 200 million women have undergone FGM/C, and 4.3 million girls are estimated to be at risk every year. 
The launch of our new regional office marks the beginning of deeper and expanded collaboration in Kenya, across the horn of Africa and largely the Global South, to catalyse the abandonment of FGM/C.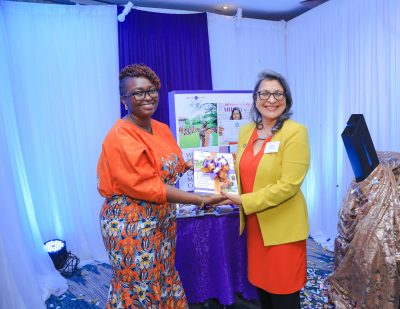 Our new strategy 2023-2028 will see an focus on three key objectives:
To undertake research, generate evidence and curate knowledge to better equip those working to end FGM/C

To facilitate capacity strengthening of partners, through learning and knowledge sharing, to improve programme designs and impacts for the movement to end FGM/C

To influence global and regional policies, actions and funding towards ending FGM/C
Orchid Project's physical presence in Kenya is a key milestone as we work towards the achievement of these objectives, and represents an important hub for our work to end FGM/C across Africa.  
Convening with our partners, supporters and allies in Kenya, the launch was a monumental event filled with inspiration and hope. We celebrated the strategy and regional office launch with a video highlighting Orchid Project's successes to date. 
CEO Asenath Mwithigah thanked our distinguished guests of honour, Orchid Project's Founder Julia Lalla-Maharajh OBE, and Dr Anne-Marie Wilson MBE, founder of FGM/C research organisation, 28 Too Many, which joined with Orchid Project in 2022.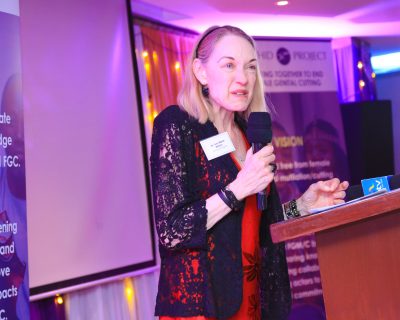 We heard powerful speeches from the Chairperson of the Kenyan Anti-FGM Board, Hon. Surum Ipato Korema, and a speech from the Honourable Aisha Jumwa Katana, Cabinet Secretary from Kenya's Ministry of Public Service, Gender and Affirmative Action represented by the CEO, Anti-FGM Board, Madam Bernadette Loloju.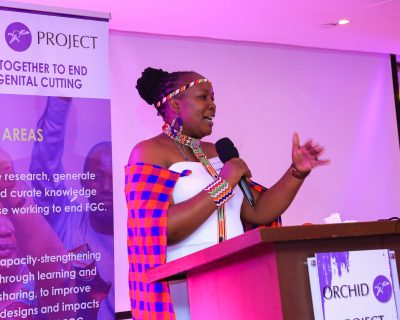 The room of 150 guests were all moved to hear from survivors of FGM/C, early marriage and school drop-out, who shared their stories of strength and bravery, as well as their perseverance and dedication to ending harmful practices for future generations of girls. 
Finally, Julia and Ann-Marie received a touching award for their tireless efforts to end FGM/C and trailblazing contributions to the global movement to end the practice. 
Celebrations continued through the night with dancing, local music, cake and even a giant version of Orchid Project's 5-year strategy.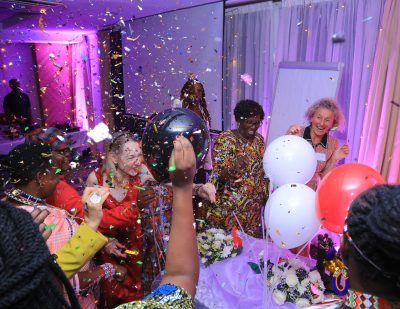 In the words of Asenath, 
The launch of our new strategy and regional office marks a significant moment in our journey to end this harmful practice which continues to impact girls both in Kenya, across many African countries, and around the world. With the support of our partners and dedicated team, we will make a world free from FGM/C a reality.
To keep up-to-date with news, updates and to find out how you can support our efforts to end FGM/C subscribe to our newsletter.