Josephine Sarange, mother, wife, volunteer and financial expert shares her experience working with CGED, a community based organization (CBO) set up and managed by the women of Ndhiwa, Kenya.
Recent efforts are focused on raising funds to build a safe haven for young girls who have been denied education due to premature motherhood. Josephine is determined to safeguard their rights and ensure their access to education working to make their dreams a reality.
What motivated you to achieve your education? 
Firstly, let me explain my background, and then you will start to understand my journey. I grew up in Homa-bay County, Ndhiwa District which has a population of approximately 51,186. My home village has 5,037. I was one of 6 girls in my community to attended university.  I owe this achievement to my mother.
Ndhiwa suffers many social ills. As a poverty stricken region 80% of the populations are dependent on land as farmers or fisherman, therefore education is not prioritized and over 70% of the population is illiterate.  Education is not seen as a requirement for girls, many struggle to complete secondary school, and fall victim to child/early marriage and teenage pregnancy, which in turn perpetuates high HIV transmission rates. Within my community patriarchal norms work to restrict women's rights and without education women are unaware of their rights or unable to access them.
Fortunately, my mother understood the importance of education. But her beliefs were met with stiff resilience from my father and his family.  You see, in my home town a girl's life is often controlled by her paternal family, her father, uncles, grandfather, who often impose pressure to marry young and to be a good wife by undertaking a life of domestic servitude.  Education is seen as redundant.  My mum fought his control. Determined to see me shine, she insisted without remorse until my father caved under pressure. Today he supports my academic endeavors, especially once he saw the returns on investment from a girl going to school – both personally and professionally.
After completing a Bachelor of Commerce Degree at Jomo Kenyatta University of Agriculture and Technology and a Diploma in Social Work and Community Development I felt compelled to return to my home town and volunteer within the local community. This lead to my first job working for CBO Education for the Advancement of Women (ECAW) in Kuria as the Finance Officer. Alongside this I am excited to assist CGED develop their organisation.
What does Centre for Growth Education and Development Kenya work to achieve? 
The Centre for Growth Education and Development Kenya (C.G.E.D) was founded in 2014 by a group of passionate women who grew restless with the multitude of issues depriving their community. Having witnessed generations passed suffer in silence, these women came together to share, support and encourage each other to shift societal norms that continue to constrain their rights.
One of the most pressing issues within our community centers around barriers to women accessing their inheritance. Several CGED members are widows, who are at grave risk of being left destitute upon their husband's death, unless they agree to remarry within the deceased's family locking wealth into his familial lineage.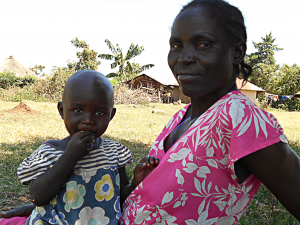 Jane* for example, mother of six, is recently widowed and is fighting pressure to remarry her brother-in-law. Over the years her 6 children have died of unrelated causes, but her lone grandson William* survives. With no familial support, no income and no state benefits in her old age Jane struggles to provide. As a network of women working together to support each other CGED provide Jane with a loan to generate income so that she can provide William a secure future.
What is your role in CGED? 
The women of CGED have big dreams – I am here to help them move forward to achieve change in the community.
As most women are illiterate, they required a qualified development profession to guide their practice to help run a sustainable organisation that creates tangible change.  My background in fundraising and community development and my shared vision of gender parity lends itself well to their mission.
I initially joined as a member of the advisory council, but the more I learn about the work, the more inclined I am to become further involved, sharing my knowledge to benefit these women and society at large.
What have CGED achieved since inception?
CGED has several projects, but for the women who created it, it seeks to work as a micro-finance loan network. Each woman, many who are widows that often unexpectedly land on the periphery of society, donates a sum to the collective. Once the money amounts to the desired total, the women start an income generation project. Most recently, they initiated a pottery project, the product then sells at the local market, generating income for the collective. From this increased amount, any member at any time can take a loan for her individual endeavor. Her progress is monitored bi-monthly and she is expected to repay the loan within 4 months.
Brenda* has recently taken a loan to start her own business, she plans to a run second hand clothing stall at the local market. CGED were able to loan Brenda 10,000ksh (£68) allowing her to initiate her start up business ensuring her financial independence. At present the collective is down to 7,000ksh (£48), but the women of CGED are working hard to increase this value.
What is CGED's current project?
We are raising funds to build and run a center to provide illiterate young women and teenage mothers with further education and professional training in the form of workshops including financial literacy, agri-business, IT skills, capacity building.
Ndhiwa has an exceptionally large school drop-out rates, especially of girls. When a girl is married young and becomes unexpectedly pregnant her formal education is often terminated. It is seen as culturally inappropriate to attend school whist pregnant or as a young mother. As a consequence, girls become idle, isolated and unable to envision a future that's bright. With a lack of education many girls are unaware of how to care for themselves or their children and are unable to better themselves economically.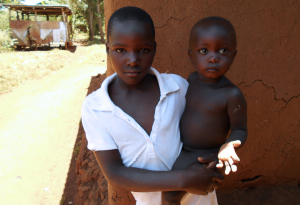 At CGED we strive to reassure girls that their futures are bright, that motherhood does not need to stop their education or professional development. CGED envisions a center where girls can attend informal classes to develop their education, free from stigma and ridicule.
I think it's important to mention that this request came from within – 5 young mothers approached CGED and asked for a safe space where they could learn. I am determined to see this project be successful because the alternative, a community built on gender bias and patriarchal norms is unacceptable.
Why is women's economic empowerment so important?
My mum once told me, education is power – if you are denied education then you are denied power.  I refuse to stand by and let these girls be refused the very thing that will help them and their communities progress – after all women are key to community development. If you empower a women you are empowering the community as a whole.
*Names have been changed
Please help CGED and create brighter futures for girls in Ndhiwa, Kenya.