Since January this year, we have been working with ECAW (Education Center for the Advancement of Women) and Feed the Minds to support the abandonment of FGC in Kenya. Through ECAW's strong community networks this project protects and empowers young girls and women, at the same time as challenging the communities' attitudes towards the practice. You can find out more about the project by clicking here. Our Knowledge and Programmes Co-ordinator Lucy has been out to visit…
Day 5
After the success of yesterday's story in bringing up issues within the community, we started our final day creating a story that would engage the religious leaders we were meeting that afternoon. It was agreed that the success of the previous day's story lay in the fact that it was relevant and realistic, short and easily understandable.
Christine, a passionate young woman who has been interning with ECAW for the last 2 months, came up with the idea for the story: a young woman hears of a local parish arranging for girls to undergo cutting and seeks out her pastor to ask if this would be possible where they are as she and her friends feel that it is time they were cut. After checking it against our list of criteria, and Josephine shortening the length, the story was ready to go.
Christine has developed her skills enormously over her last couple of months at ECAW. As well as developing stories and planning sessions, liaising with community members, stakeholders and paralegals and organising and facilitating sessions, she is ECAW's 'Champion Girl' – an uncut girl from within the local community who has surpassed expectations to graduate from secondary school and go to university, where she is now going into her third year of study. Christine regularly presents at forums and meetings, representing empowered girls and the potential for change. She says:
"My self-esteem has increased. I am now more confident to talk to everyone, especially the older people in society".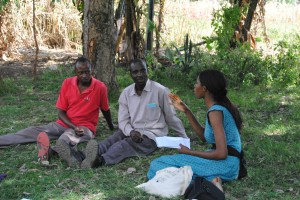 Christine facilitated the session with 3 prominent religious leaders. All were against FGC, believing it to be against their religion. Unlike the health professionals, it was not acknowledged that cutting happens within parishes, although it was acknowledged that many members have undergone FGC and some girls leave church to be cut. The leaders felt strongly that any church in favour of cutting was not Christian or within the teachings of the bible. One pastor was very engaged with the issue, visiting families to advise them on the effects of FGC, talking about FGC during crusades and working with a Pastors Association to develop a Table of Fellowship where pastors can meet and talk about the issue.
Whilst engaged in talking about FGC, and preaching on the issue throughout the year, this seems to be in a negative context; girls not cut are told to keep away from those who are cut as they are seen to 'influence' them, those agreeing to be cut are seen as worshipping spirits. Unfortunately this excludes girls who have been cut – stigmatising this group just as uncut girls are stigmatised elsewhere – and prevents the whole community from being engaged in a dialogue around why FGC happens and how it can end.
Ultimately, the religious leaders would like to work with ECAW and are passionate about the issue. It is up to ECAW to open up dialogue with these leaders so they can learn more about their approach – its advantages and disadvantages – and other, more successful and inclusive approaches.
All in all
ECAW have developed significantly over the last few years and as they continue to engage their community in ways that enable individuals to understand more about the practice, discuss as a collective group and develop new ways of engaging each other, we can be confident that understanding of FGC, human rights and the potential of girls and women can be spread throughout the area.