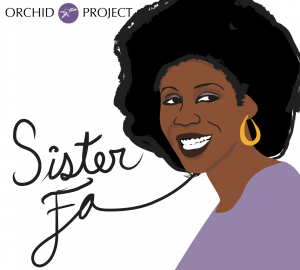 Born in Dakar, Senegal, Sister Fa (Fatou Mandiang Diatta) first entered this country's vibrant hip hop scene in 2000. Her family's rich musical origins and cultural traditions from Casamance in the South of the country have influenced her, and in 2005 she won the first ever Senegalese Hip-Hop award.
Now based in Berlin, she is determined to consistently raise awareness of difficult issues, especially FGC through her potent lyrics about personal, social and political subjects. She is game-changing, taboo-breaking and inspiring, the perfect advocate for an end to FGC in her home country. In November 2011 she was awarded the prestigious Freedom to Create prize, acknowledging her efforts to promote human rights through music.
Orchid Project has worked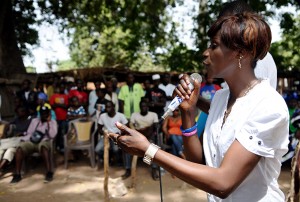 with Sister Fa since 2011,  supporting her 'Education without Cutting' tours in Senegal and Guinea since 2012, which mobilise young people to discuss gender equality, human rights and the unsung practice of female genital cutting (FGC).  The programme was developed by Sister Fa who has a vision of a Senegal free from FGC; her efforts have seen her own home town of Thionck Essyl in the high prevalence Casamance region of Senegal – where she herself was cut – abandon the practice of FGC altogether. Sister Fa uses her status as a role model and artist to support and facilitate boys as well as girls to use their agency to create change. Her documentary 'Sarabah' shares her personal journey using music for activism and change.