Since November 2012, Tostan has partnered with the Orchid Project in implementing a series of strategic initiatives towards the reinforcement of the abandonment of female genital cutting. The media tour realised in October reflects the positive outcome of such a partnership.
On October the 21st, the Tostan office in Kolda toured different localities within the municipality of Wassadou in the region of Kolda. The event was covered by TFM, 2STV and Convergence FM—all local media channels. The overall goal was to attempt to highlight the initiatives made and impacts realized on the ground in relation to harmful practices against women's health, in order to allow a large audience to witness them through the media.
Among the places visited were the villages of Saré Laobé, Saré Sadio and Diatel. In addition, a visit to the mayor's office and the health post of the Wassadou municipality were also made. Throughout each visit, the press interviewed local and influential authorities among which can be counted the village chiefs, the health post nurse, the presidents of the Women's Advancement Group, and the assistant to the mayor.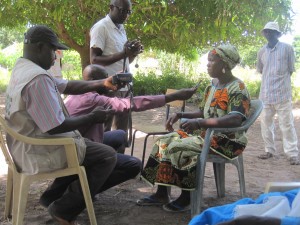 Overall, about 50 community members came out to support their local authority during the interviews. Moreover, the team was comforted in knowing that the authorities appreciated Tostan's initiatives and that they especially stressed out the positive effect of awareness-raising campaigns. This was highlighted in the interview with the mayor's assistant, Mr. Moussa Mballo. He congratulated Tostan on its successes, and pointed out that the practice of female genital cutting was decreasing largely due to the effect of awareness-raising campaigns like the social mobilisation programme Orchid Project has developed with Tostan. He added that the mayor and his colleagues were committed to support Tostan's initiatives and would like to strengthen the collaboration they have with Tostan due to the positive impacts realised from this collaboration.
By Wendy Bongjoh
This blog is part of a series on the Social Mobilisation project that Orchid Project funds in support of Tostan's long term Community Empowerment Programme. Social Mobilisation is focused on ensuring the acceleration of abandonment of FGC in Senegal. Teams of volunteers who have already abandoned FGC, called social mobilisation agents, visit and create dialogue with inter-connected communities on human rights and the negative consequences of FGC. Their work aims to spread the message of abandonment and encourage others to join them.
Social mobilisation agents are individual members of the community who have been inspired by their understanding that FGC is a harmful practices, and are eager to share their own experiences with others. Often, they are religious, traditional or community leaders who are widely respected and well-connected, active, influential participants.
You can find out more about Social Mobilisation by clicking here. If you would like to support this work, please click here.