Since 2012, Orchid Project has partnered with Tostan, a Senegal-based NGO that focuses on sustainable development and positive transformation of communities based on respect for human rights. Tostan's Community Empowerment Programme (CEP) is a 3-year non-formal education programme implemented in six countries. The CEP has multiple outcomes, and one key result is the abandonment of female genital cutting (FGC).
This has resulted in incredible movement of change at the grassroots. To date, almost 8,000 communities have publicly declared abandonment of FGC across West Africa as a result of the programme.
Tostan and Orchid Project have developed the Social Mobilisation Programme (SMP) to complement the CEP to accelerate the abandonment of FGC in four regions in Senegal.
The SMP focuses on facilitating social norm change associated with FGC through completion of social mobilisation activities, comprised of social mobilisation missions, inter-village meetings, sharing workshops, inter-generational meetings, radio broadcasts and school campaigns.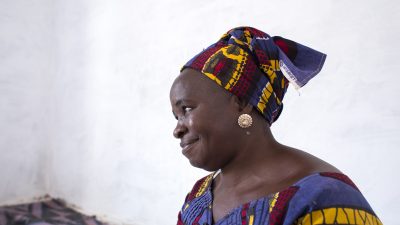 Social mobilisation agents, such as Marieme Bamba (pictured right) are individuals who have themselves gone through the CEP. SMAs are volunteers, who work in teams of six volunteers to deliver these activities in communities that have not gone through Tostan's CEP. Marieme and her team travel by foot or horse and cart, to villages within their social networks, sometimes travelling days at a time in order to deliver the social mobilisation missions.
Upon arrival, the SMAs hold an initial meeting with key village members, including Imams and villages leaders, providing information, addressing misperceptions about FGC that these influential people may hold, and asking for permission to engage with the wider village population.
Once access is granted, SMAs deliver a whole village meeting, which includes participants representing all community members, which is key for establishing collective action needed for social norm shift.  SMAs facilitate open dialogue about FGC, creating a safe space for community members to ask questions and share nuanced perspectives about FGC, which in turn furthers their understanding of the practice. Participation of key village members in this meeting empowers villagers to continue open dialogue around FGC after the SMAs leave.
Key findings:
Since 2012, SMAs have reached 48,721 people in 876 villages. Social mobilisation activities funded by Orchid Project have resulted in 169 villages being ready to abandon FGC.
The change between the taboo status of FGC to its open discussion is directly attributable to the participation of the village in a social mobilisation mission.
SMAs play a pivotal role in the successful implementation and reach of the programme: in many circumstances, villages only engage in dialogue about FGC after being visited by the SMAs.
The effectiveness of the whole village meetings in encouraging open dialogue on FGC: owing to the approach taken by SMAs, the meeting is usually highly effective at opening communication channels, resulting in eventual social norm change concerning FGC.
Prior to a village's participation in the SMP, it is unlikely that FGC is discussed outside of conventional groups. After participation, women and girls of all ages are more likely to engage in open discussion in intergenerational, intergender groups outside of the household. Older women are influencers in decisions made about FGC and their participation can facilitate change in behaviour associated with the discussion of FGC.
Participation in the SMP was identified to provide men with the agency required to discuss FGC and contribute to decision-making about FGC in their households.
Both men and women identified that the new knowledge they learned from the SMAs inspired them to educate others and become advocates or activists supporting the abandonment of FGC in Senegal.
For more information and summary of recommendations click here.