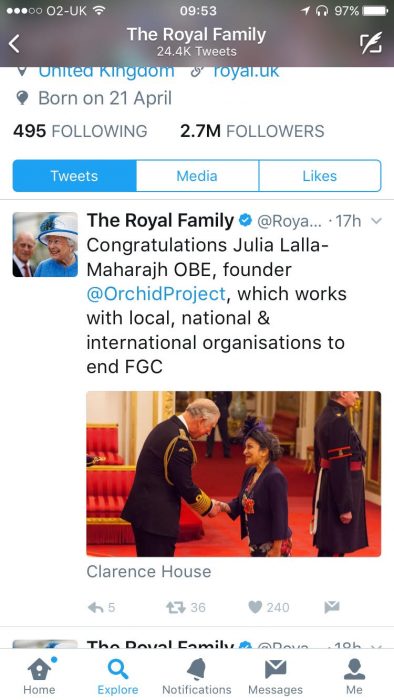 Last Friday 10th February 2017, our CEO and Founder Julia Lalla-Maharajh received her Queens Honour, Officer of the Most Excellent Order of the British Empire for her commitment to ending female genital cutting (FGC) worldwide.
Julia set up Orchid Project over 6 years ago. Before this, she spent 15 years in the private sector.  In 2008, she volunteered in Ethiopia where she became more aware of the extent and scale of female genital cutting – 75% of girls have been cut – that's 23.8 million women.
The realisation of the extent of the practice paired with her inability in that moment to do more to help the girls at risk, pushed her into action – she made a vow to herself that she would do everything in her power to ensure that the next generation of girls would remain uncut.
She continued to volunteer on her return to the UK, learning more about the practice and then won a competition called the Davos Debates, which saw her hold a discussion at the World Economic Forum in January 2010, asking the question what more can be done to end FGC globally?
She was told to go to Senegal to see the change happening on the ground. In Senegal, Julia met Molly Melching, Founder and CEO of Tostan and worked with communities whilst learning about Tostan's model of social norm change – at this time over 5,000 communities had chosen to abandon female genital cutting across Africa, change was happening – FGC was ending.
This inspired Julia to take the bold move of setting up a new charity and today, Orchid Project's vision of a world free from female genital cutting is ever strong. Orchid partners with organisations at the grassroots that are ending FGC in Senegal, Kenya and India and works as a catalyst for change to foster and accelerate the abandonment of the practice.
Julia takes particular lead on our advocacy work and the snapshots below show moments of her conversations and discussions with world leaders, all which focus on the opportunity of people coming together with empathy and understanding to allow communities to abandon the practice.
Today, over 8,000 communities have declared abandonment of FGC across Africa, and 75 communities will declare abandonment this week in Senegal, as a direct result of Orchid's social mobilisation programme that has been active for 4 years.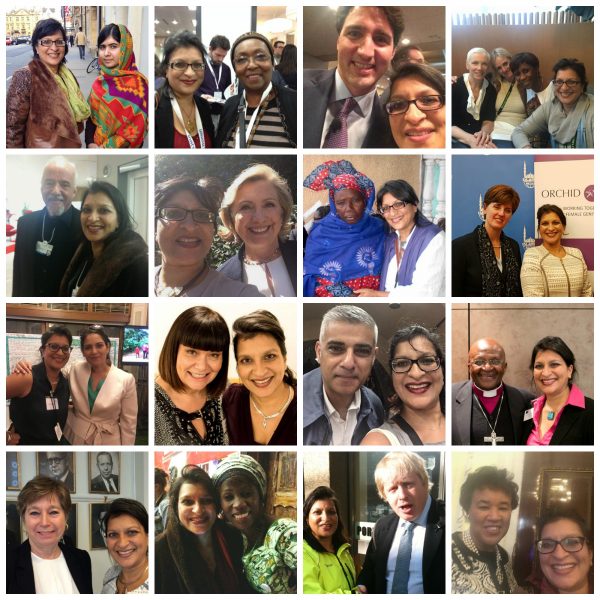 Julia spreading the message of FGC ending, with: (from left to right)
Malala Yousafzai, activist for female education
Edna Adan Ismail, Founder and CEO, Edna Adan University Hospital
The Rt Hon Justin Trudeau, Prime Minister, Canada
Annie Lennox, singer/songwriter and activist and Sister Fa, Senegalese singer
Hillary Clinton, Former Secretary of State, US
Oureye Sall, Tostan
The Hon Marie-Claude Bibeau, Minister for International Development and La Francophonie, Canada
The Rt Hon Priti Patel MP, Secretary of State for International Development, UK
Dawn French, actress, writer and comedian
The Rt Hon Sadiq Khan, Mayor of London
The Most Reverend Desmond Tutu, Archbishop Emeritus of Cape Town, South Africa
Tone Skogen, Secretary of State, Ministry of Foreign Affairs, Norway
Sister Fa, Senegalese singer
The Rt Hon Boris Johnson MP, 
Foreign Secretary, UK
The Rt Hon Patricia Scotland QC, Commonwealth Secretary-General