On the 27th of March 2023, Orchid Project's research team (previously 28 Too Many) held a Webinar launching our female genital cutting/ mutilation (FGM/C) in Nigeria Country Profile Report.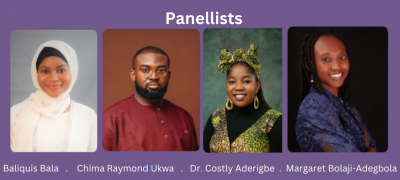 The webinar was well attended and featured a presentation by Researcher Shannon Thomson on the report's Key Findings. This was followed by a panel discussion exploring key themes, with experts: Dr Costly Aderibigbe, Chima Raymond Ukwa, Baliquis Bala, and Margaret Bolaji-Adebgbola, who shared valuable insight into the state of FGM/C in Nigeria, trends, and challenges. The webinar concluded with a Question and Answer session where participants clarified their understanding of the reports' findings.
Links of note:
A recording of the webinar can be accessed, using the passcode rdq?m%Q6,

here:

. 

The FGM/C in Nigeria Country Profile Report can be found here:.
The Key Findings document can be found here: .
The FGMC in Nigeria launch presentation can be found here: .
Thank you to our panellists for their insight, and indeed all those who engaged. You made the FGM/C in Nigeria Country Profile Report Launch a success! Because of the report findings, we hope to move the sector closer to designing more-effective programmes that catalyse an end of female genital cutting/mutilation in Nigeria, so girls can live free of this practice.