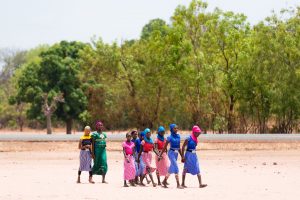 New statistical analysis finding a significant decrease in female genital cutting (FGC) prevalence rates across East, North and West Africa is encouraging but should be received with caution, and with an understanding of the context-specific nature of the practice around the world.
In East Africa, FGC prevalence amongst girls aged 0-14 has dropped to 8% from 71% between 1995 and 2016, according to the article published in the British Medical Journal (BMJ), which analysed data on 208,195 girls taken from 90 national surveys from the Demographic Health Survey (DHS) and the Multiple Indicator Cluster Survey (MICS).
The researchers also found significant declines in North African countries, Sudan and Egypt, from 57.7% in 1990 to 14.1% in 2015, and in West Africa across 14 countries from 73.6% in 1996 to 25.4% in 2017.
In East Africa, survey data came from 8 countries: Tanzania, Somalia, Somalia north-east, Ethiopia, Kenya, Djibouti, Somaliland and Eritrea.
The apparent encouraging downward trend in FGC prevalence in these regions was not mirrored, however, in analysis in Yemen and Iraq, where the researchers found prevalence increased by 19.2% per year between 1997 and 2015.
It is significant that researchers are looking at data collected on girls aged 0-14, also known as "daughter data", as research on prevalence rates most commonly looks at women between the ages of 15 and 49. Examinations of this older cohort are not primed to see significant change, since women who have been cut decades earlier will remain in the data set until the age of 49, whereas "daughter data" may show a more immediate change in whether communities and families are continuing to practice FGC.
The trends identified by this study are promising. The global movement to end FGC has never been stronger, and it is only gaining momentum but, as the researchers note, this study does not indicate that our work to end the practice is done.
While apparent significant declines in FGC prevalence suggest that the incredible efforts of people at the grassroots, activists, community members, NGOs and governments are having an impact, the data does have limitations, and the context-specific nature of how FGC continues must be considered.
As Nafissatou Diop, coordinator of UNFPA-Unicef joint programme, highlighted in a Guardian article, some girls included in this age 0-14 data may be yet to undergo FGC, particularly in some East African communities where the practice is a rite of passage carried out between 12 and 14 and sometimes up to the age of 16.
The BMJ researchers highlight that there may be issues around the accuracy of self-reporting too, with mothers potentially not reporting that their daughters have been cut. This may especially be the case in countries where a national law against FGC exists, as parents may fear prosecution.
Further limitations could also include where the survey data is collected, as it may not account for small geographical pockets where FGC prevalence is particularly high. For example in Kenya, the national prevalence according to UNICEF is 21%, however within some ethnic groups such as Kisii, Kuria and Maasai, prevalence rates are known to be between 93% and 96%.
The data examined in this new research also doesn't account for girls living in countries that do not report national data on FGC. We know of 15 countries  where FGC has occurred outside the 30 that report national data. Without representation of the true scale of the practice and efforts to end it globally, we cannot yet celebrate success.
We can, however, take hope from trends that point to the need for increased support for efforts to end FGC, as the authors of this BMJ study do.
Girls are one-third less likely to be cut than they were 30 years ago, according to UNICEF and UNFPA. There is urgency, however, coming from the fact that the geography of population growth means 1 in 3 girls worldwide will be born in the 30 countries where FGC is concentrated by 2030
More needs to be done, and quickly, but change is happening.
In many of the countries included in analysis by the BMJ authors, particularly in West Africa, there is evidence of significant change at the grassroots leading to public declarations of FGC abandonment. The United Populations Fund (UNFPA) recently released an evaluation of phase II of the joint programme with UNICEF on FGC, which showed that in 17 countries, 24.6 million individuals made public declarations of FGC abandonment.
Some of the most effective ways to support communities to abandon FGC recognise the practice as a social norm, and see need for context-specific approaches to end the practice.
Orchid Project's partner, Tostan, has seen more than 8,400 communities across West Africa declare abandonment of FGC through human rights education, while our grassroots partner, S.A.F.E., has worked with the Maasai of Loita Hills, South West Kenya to develop an Alternative Rite of Passage to which 30% of families in the area have transitioned, so their daughters can graduate into womanhood and remain uncut. Campaigners in India are also currently challenging the continuation of FGC within the Dawoodi Bohra community in a Supreme Court case that is ongoing.
Many of the countries highlighted in the BMJ analysis also have national laws against the practice, and there is growing political support at a national and international level for supporting an end to FGC. Policy and legislation are just one part of a wider picture that will lead to global abandonment of the practice.
This tremendous, growing movement has achieved so much in recent years, and seeing that reflected in research supports our conviction that FGC can end within a generation.
For FGC to end globally, we need commitment, leadership and policy from global leaders, research that shows the true scale of the issue around the world, and support and resources for effective approaches that create sustainable change where it matters; at the grassroots community level.