I first met Julia Lalla-Maharajh, Orchid Project's CEO and Founder during our time together at Voluntary Services Overseas in Ethiopia between 2008 and 2009. I respected the life changes Julia had made and the impact she and her colleagues are having at Orchid Project. In Africa, I learnt how women are key to development and change. Women make the majority of the decisions related to sanitation for the family and children, choosing clean water and teaching the importance of hand washing as well as being the primary support for the education, welfare and needs of their children with regards to getting vaccinations done or utilising mosquito nets.
Female genital cutting (FGC) damages African development because it harms women. My wife and I have a 5 year old daughter ourselves. Sara and I feel especially sensitive to the pain and lifelong suffering FGC causes to similar girls around the world.
Four years ago I started running seriously after reading the book Born to Run, by Christopher McDougall. I see running as a metaphor, satisfying some basic human desire to move forward, to survive, to run towards something better, to achieve something monumental such as an end to female genital cutting and violence towards girls and women.
I set myself 4 goals over 4 years. I committed to a 10k in 2012, half marathon in 2013, full marathon in 2014 and then a 50k ultra-marathon later that year. I am always looking for the next running challenge, so when I was at the Orchid Project office in September 2014 setting up their computer network and Julia asked when would I run a marathon to raise money for the Orchid Project, I joked and said that everyone knows I can run a marathon, maybe I should run something harder, like the "world's toughest foot race" across the Sahara desert! I said that I would apply and if I got a place I would run for the Orchid Project. It must have been fate as I achieved a place in the Marathon des Sables and now I am in the process of training for it.
During 2015 I completed a 4 month training program which included a 4 marathons in 4 days, a 24 hour non-stop run and in September I completed a 102 mile run along the entire Cotswold Way in 29.5 hours. So now I start training for the Marathon des Sables (MdS) in April 2016. The MdS is a total of around 5.5 marathons in 6 days across the Sahara in temperatures up to 50 degrees, running across sand dunes which is not easy with a 10kg back pack on as you have to carry all your food, sleeping equipment and clothes for 7 days with you. The organisers kindly give you your water every day. An extreme challenge to raise money for an extreme issue!
The next milestone in my training is the Green Man Ultra – a 45 mile race around Bristol, though I will be wearing my full backpack, so I'm not expecting to run it very quickly. Bristol is my home town – we left in 2008 to volunteer in Ethiopia and then my work took me to Cheltenham – so I'm looking forward
to visiting some familiar places on the run. I've also got some heat acclimatisation to do, which includes running in a heat chamber at Gloucester University, Bikram "hot yoga" and sitting in a sauna until it gets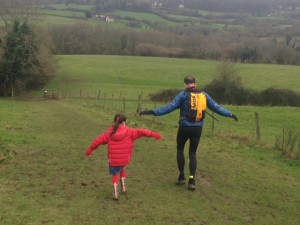 uncomfortable! That can all wait until 3 weeks before I head to the Sahara though.
If you are inspired by my story and want to help further the work of Orchid Project then please sponsor my run by visiting my Virgin Money Giving page. You can follow me on Facebook and Twitter at @DesertRun2016. Whether it is through sponsorship or words of encouragement I'd like to thank you very much for your support.