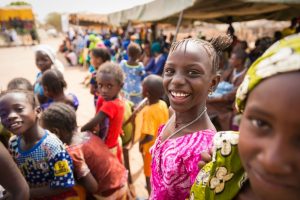 After eight incredible years as CEO & Founder of Orchid Project, Julia Lalla-Maharajh OBE is transitioning to a new role of "Founder & Ambassador" for Orchid Project later this year, where she will continue to be involved in our thriving organisation.
Julia's decision means that the Board of Orchid Project have, in line with their succession planning, today launched a global search for the organisation's next CEO. Julia will stay in post until the Board have found a successor and will support the transition of the new CEO.
The Board have appointed Saxton Bampfylde to search for an individual who brings values driven, entrepreneurial, creative and collaborative leadership to the role. The successful applicant will have a track record of delivering measurable impact to support social change, as well as experience of influencing high-level, international and diverse stakeholders, and of inspiring and motivating teams. They will be a strong operational manager, networker and communicator, with high integrity and credibility.
Orchid Project's Board Chair Cecile Belaman commented:
"Orchid Project has grown into one of the leading organisations working to end FGC worldwide.
Orchid Project has set out an ambitious three-year strategic plan which the team will start delivering against from April. We see this as a chance to further develop the organisation as we embark on a new phase of growth. While we search for a new CEO, the Orchid Project team, under Julia's ongoing leadership, will continue to deliver against that plan.

Orchid Project's vision of a world free from FGC by 2030 is unwavering, and our work with our partners, programmes, communications and advocacy worldwide remains undiminished. Together, we wish to continue to make a huge impact on ending FGC. I invite any potential candidates to follow the link below and explore this opportunity."
Speaking about Orchid Project, Julia said:
"In the eight years since Orchid Project was founded, it has been a remarkable journey. Today, we support programmes and organisations at the forefront of this movement around the world, through which we're seeing that thousands of communities are choosing to stop cutting their girls and the silence around the issue is shifting.

I've been proud to collaborate with a brilliant staff team of 12, incredible partners around the globe and with a dedicated and professional Board, as well as with many individuals who are committed to ending this practice. I would like to thank our supporters, partners, colleagues and friends for all you've done personally towards ending FGC. I'm looking forward to supporting the new CEO to achieve every success in taking Orchid Project to its next level and to continue being involved in our thriving organisation."
To read more about the role, and to apply to become our next CEO, click here.