Dear Supporters,
It has been a busy month for all the Orchid Project's team. Here are a few of the highlights…
 Malaysia trip to meet The Asia Network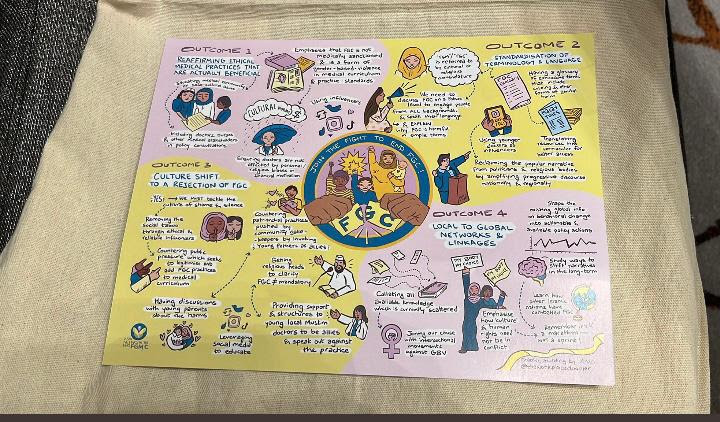 ARROW's evidence-based research and advocacy roadmap to end FGM/C
On the week starting the 27th July Orchid Project's CEO Asenath Mwithigah flew from Nairobi, Kenya to Kuala Lumpur, Malaysia to meet with The Asia Network to End FGM/C, a collaboration between Orchid Project and Malaysia-based regional feminist NGO, the Asian Pacific Resource and Research Centre for Women (ARROW) to further strengthen our partnership to drive sustainable, inter-regional efforts to end female genital mutilation or cutting (FGM/C) through diversity and inclusivity.
In a busy and stimulating week Asenath met with ARROW'S Executive Director Sivananthi Senthe Thanenthiran and some members of the 100 strong network to co-chair a learning session and discuss member's milestones in the past 7 months with presentations about ARROW's programmes. Both Asenath and Sirvananthi also made a courtesy call to HE Francis Muhuro Kenyan High Commissioner to Malaysia.
  The highlight of Asenath's trip was the launch event of the ground breaking evidence-based research and advocacy roadmap. At the launch event for the two-year advocacy road map there was an opening speech from Sivananthi about the importance of acknowledging FGM/C as an issue that affects girls in Asia. The audience also heard from, among others, Professor Rashidah from ReHAK who presented the literature review of FGM/C in Malaysia including medicalisation of FGM/C, from Asenath on Orchid Project's continued commitment to working with the Asia Network and the need for evidence advocacy and engagement with global stakeholders as well from Dr David Wallace, Dep High Commissioner who reaffirmed his support of the effort to end FGM/C.
Asenath said:
This was my first trip as the CEO of Orchid Project. It calls to show the importance and the centrality of the Asia Network to end FGM/C to our work at Orchid Project. For the one week, I was fortunate to interact with our partners and learn the incredible work they are doing on ending FGM/C and for me to share our work at Orchid. My hope is that the Malaysia based research that we launched will act as a blueprint to similar work in other countries in the region. As I shared with our Asia network partners, we are committed to strengthening south-south cooperation and learning best practices from organizations in other regions. We are in recognition of the fact that not unless we address and end FGM/C in Asia sustainable development target 5.3.2 will not be achieved by 2030.

 Live showing of two films about cutters from Orchid Fellows
Through Bain funding, both Sarian Karim-Kamara (Founder and Director of Keep The Drums, Lose The Knife) and Bethel Tadesse (Founder and Director of Hidden Scars)  have produced short films about cutters. Sarian's film shows the story of change in Sierra Leone from the perspective of ex-cutters who have given up the practice. Bethel's film shows the power of forgiveness and brings together an ex-cutter and survivor in Kenya, which is even more powerful because the cutter is the mother-in-law of the survivor who she cut in preparation for marriage to her son.
On July 7th, Bethel and Sarian showed their films to a live audience followed by a Q & A in which both activists discussed their own experiences and what drove them to set up their own organisations and why they wanted to make films from the perspective of the cutter. As an introduction to the event Sarian used an anatomical model to talk about different kinds of FGM/C and spoke about her own experience as a survivor. To see Sarian speak is to be informed, educated and inspired. Her openess and passion to bring about change makes Sarian such an exceptional and inspiring campaigner.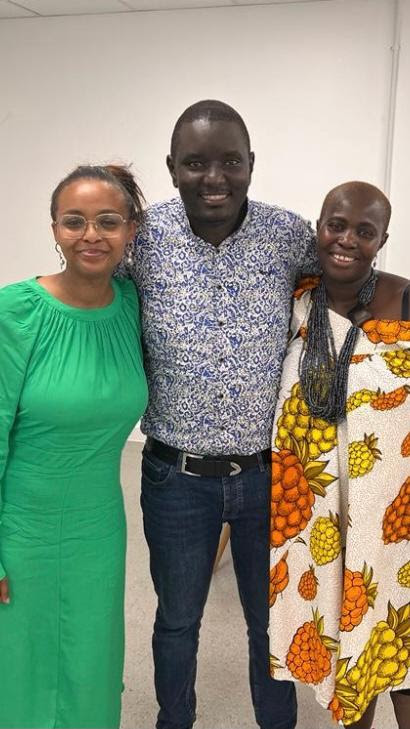 We also heard from Tony Mwebia about how he set up Men End FGM in Kenya and some of the things he has learnt from discussions with men in Kenya and how that could be applied to end FGM/C in other countries whilst being aware of nuances of different social norms in the communities, areas and countries that practice FGM/C . When the floor was open to discussion,a very candid and lively conversation took place between men and the  women attending and was led by Tony.
                              
                           Hoda Ali in Kenya
 Orchid Fellow and educator Hoda Ali, a survivor of FGMC from Somaliland who now educates parents and teachers about FGM/C in the UK and is the Co-founder of the organisation The Vavengers is currently in Kenya for two
months with the support of Orchid Project, KitAid and The Vavengers.  She has been educating parents and community leaders about the harms of Female genital cutting or mutilation (FGM/C) and also working with children to teach them safeguarding to protect against the practice.  Hoda is also traveling and working with Safe Engage Foundation to teach and work with mentors, teachers and parents in the rural communities. Hoda first met Christine Alfons founder and director of Safe Engage Foundation at a training programme in Senegal in 2019. Team meeting with Bernadette Loloju of the anti FGM Board of Kenya
On the 22nd July our CEO Asenath and team paid a courtesy call to the CEO of  Anti-FGM Board of Kenya Bernadette Loloju at her office. They discussed the importance of research in informing policy and programming and the need for all state and non-state actors to work together towards ending FGM/C. Bernadette Loloju said:
Yesterday in my office l met Ms. Asenath Mwithigah, Global CEO Orchid and we discussed areas of partnership and collaboration especially on research so as to inform policy and programming. Together we will end FGM not only in Kenya but globally
Thank you for your continuing support from all of us at Orchid Project.